Wiha Nut Driver and 40 Piece Bit Set 1/4"
Model: 44684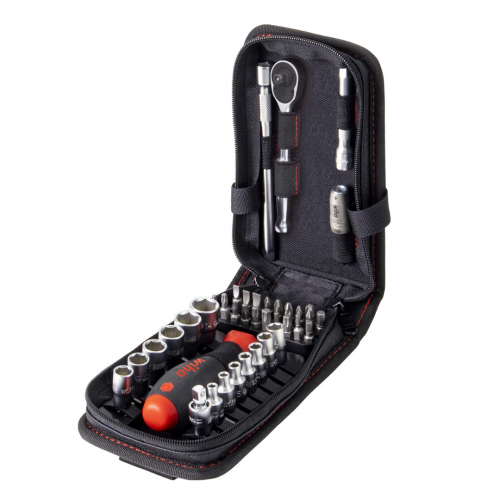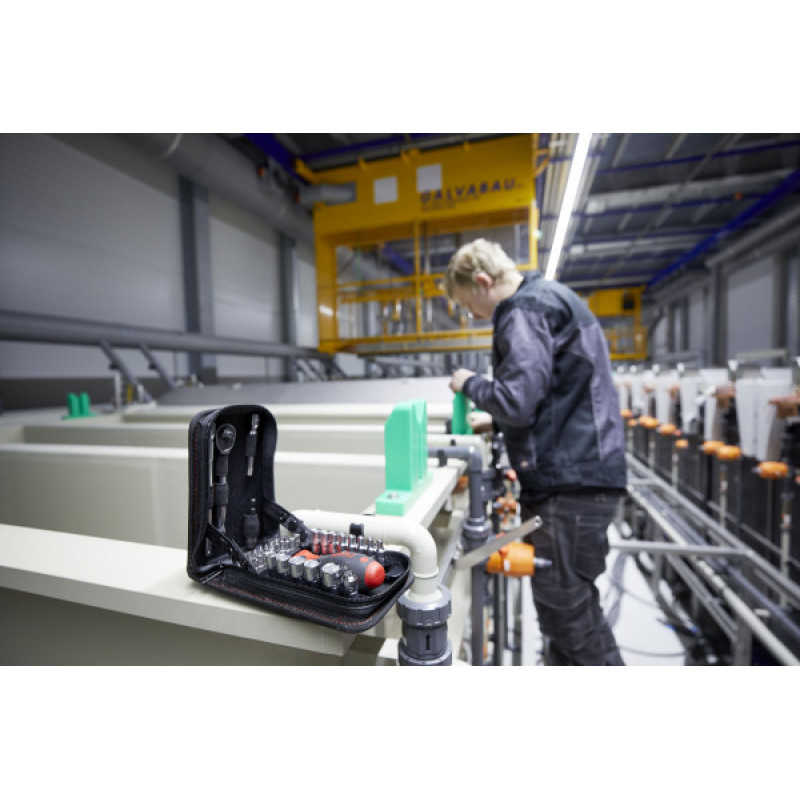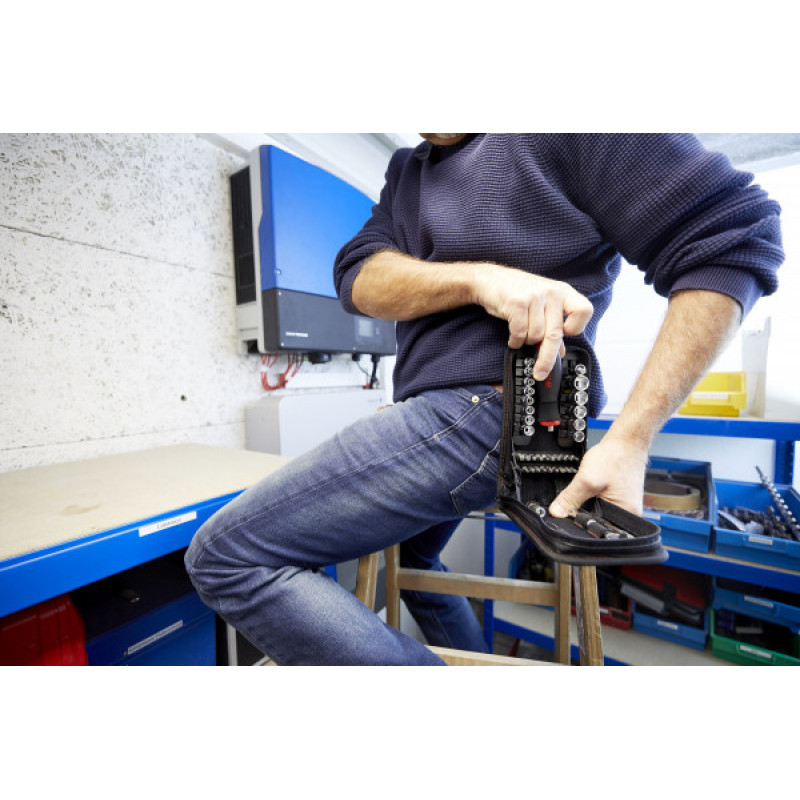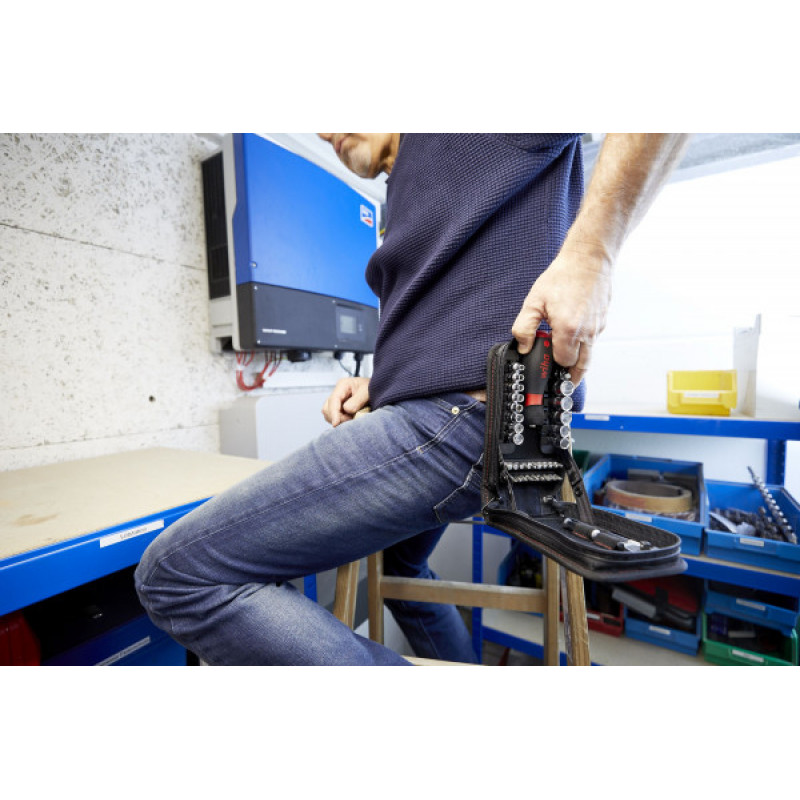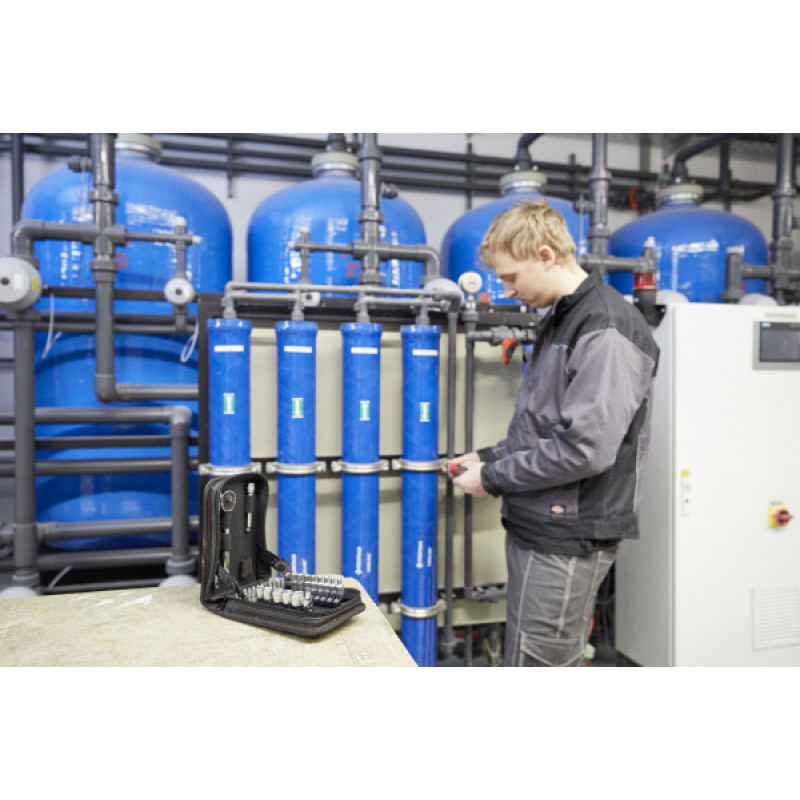 Wiha Nut Driver and 40 Piece Bit Set 1/4"
Model: 44684
£119.98

Inc VAT

( FREE UK Delivery On Orders Over £150* )

£99.98

Ex VAT

( FREE UK Delivery On Orders Over £150* )
Not having the suitable tool at hand when needed is an unnecessary waste of time, especially when you are on the go. Thanks to its convenient belt pouch, the 40-piece nut driver and 1/4" bit set can be used to simply carry out fastenings in a single step. With the set consisting of the most popular 1/4" hex nut driver inserts size 4-14 mm, various bits, a bit holder, a ratchet wrench, two extensions, a universal joint, and a 1/4" nut driver adapter, every user is well equipped for installation and assembly work. In addition, the ergonomically designed SoftFinish® screwdriver with magnetic bit holder allows fastening that is particularly gentle on hands. Thanks to the 1/4" nut driver adapter, the SoftFinish® screwdriver can be used not only with the included bits, but also with the nut driver inserts. This offers users a wide range of applications. The included ratchet wrench combined with the selection of nut drivers gives them the required flexibility for their work. When working with the ratchet wrench, the user also benefits from the fine toothing with 72 teeth, offering a short return angle. The right or left rotation can be variably adjusted by the integrated switching lever. In combination with the enclosed extensions, deep-set screws and nuts can be reached without any problems. The nut driver and extensions are mechanically locked. The change is initiated by pressing the activation button. Made of high quality chrome vanadium steel, the nut driver inserts are distinguished by their longevity and robustness, not the least thanks to their corrosion-resistant and easy to clean surface. Thanks to its clever design, the practical bag can be used as a belt pouch as well as for daily storage of the set. The non-slip surface finish ensures a strong grip, even in oily or wet work situations.
Dimensions
185 x 110 x 70 mm
Standard
Based on DIN 3124
Application
For installation and mounting work.
1x Ratchet wrench for nut drivers 1/4" switchable 128 mm (44666)
1x Nut driver insert 1/4" hexagon head 4.0 mm (44669)
1x Nut driver insert 1/4" hexagon head 4.5 mm (44677)
1x Nut driver insert 1/4" hexagon head 5.0 mm (44670)
1x Nut driver insert 1/4" hexagon head 5.5 mm (44671)
1x Nut driver insert 1/4" hexagon head 6.0 mm (44672)
1x Nut driver insert 1/4" hexagon head 7.0 mm (44673)
1x Nut driver insert 1/4" hexagon head 8.0 mm (44674)
1x Nut driver insert 1/4" hexagon head 9.0 mm (44675)
1x Nut driver insert 1/4" hexagon head 10.0 mm (44676)
1x Nut driver insert 1/4" hexagon head 11.0 mm (44678)
1x Nut driver insert 1/4" hexagon head 12.0 mm (44679)
1x Nut driver insert 1/4" hexagon head 13.0 mm (44680)
1x Nut driver insert 1/4" hexagon head 14.0 mm (44681)
1x Extension 1/4" for nut driver inserts 75 mm (44667)
1x Extension 1/4" for nut driver inserts 150 mm (44668)
1x Universal joint with ball Internal square, square head 1/4" (44682)
1x Screwdriver with bit holder SoftFinish® magnetic 1/4" 112 mm (32160)
1x Bit holder CentroFix Force mechanically lockable 1/4", magnetic in box 60 mm (39133)
1x Bit Standard 25 mm Slotted 1/4" C6,3 4.5 mm (01623)
1x Bit Standard 25 mm Slotted 1/4" C6,3 5.5 mm (01624)
1x Bit Standard 25 mm Slotted 1/4" C6,3 6.5 mm (01626)
1x Bit Standard 25 mm Phillips 1/4" C6,3 PH1 (01657)
1x Bit Standard 25 mm Phillips 1/4" C6,3 PH2 (01658)
1x Bit Standard 25 mm Pozidriv 1/4" C6,3 PZ1 (01688)
1x Bit Standard 25 mm Pozidriv 1/4" C6,3 PZ2 (01689)
1x Bit Standard 25 mm Pozidriv 1/4" C6,3 PZ3 (01690)
1x Bit Standard 25 mm TORX® 1/4" C6,3 T10 (01716)
1x Bit Standard 25 mm TORX® 1/4" C6,3 T15 (01717)
1x Bit Standard 25 mm TORX® 1/4" C6,3 T20 (01718)
1x Bit Standard 25 mm TORX® 1/4" C6,3 T25 (01719)
1x Bit Standard 25 mm TORX® 1/4" C6,3 T27 (01720)
1x Bit Standard 25 mm TORX® 1/4" C6,3 T30 (01721)
1x Bit Standard 25 mm TORX® 1/4" C6,3 T40 (01722)
1x Bit Standard 25 mm Hexagon 1/4" C6,3 3.0 mm (01705)
1x Bit Standard 25 mm Hexagon 1/4" C6,3 4.0 mm (01706)
1x Bit Standard 25 mm Hexagon 1/4" C6,3 5.0 mm (01707)
1x Bit Standard 25 mm Hexagon 1/4" C6,3 6.0 mm (01708)
1x Tool shaft with ball Square, Internal hexagon 1/4" C6,3 (01933)
1x Tool Belt Pouch