Hispec Radio Frequency Mains Wired Heat Detector with 10yr Rechargeable Lithium Battery Backup RF10-PRO
Model: HSSA/HE/RF10-PRO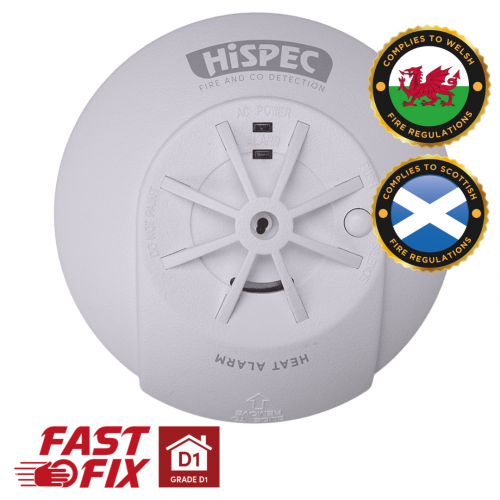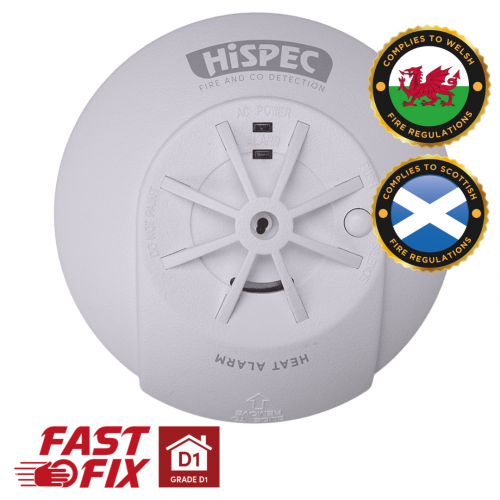 Hispec Radio Frequency Mains Wired Heat Detector with 10yr Rechargeable Lithium Battery Backup RF10-PRO
Model: HSSA/HE/RF10-PRO
£49.68

Inc VAT

( FREE UK Delivery On Orders Over £150* )

£41.40

Ex VAT

( FREE UK Delivery On Orders Over £150* )
Mains Heat Detector Alarm with Wireless Interconnection Capability and Lithium Backup
10 Year sealed 9V Lithium battery included

Voltage: 220-240V

Dimensions (Diameter x Depth): 110mm x 50mm

Interconnect up to 20 wired detectors (per radio frequency unit)

80M range (in open areas)

Fast fix base (included)

Loud 85dB Alarm (at 3 metres)

Built in test function & hush feature

Insect & tamper proof

5 Year Warranty

The HiSPEC HSSA/HE/RF10-PRO is a mains-powered heat detector alarm with wireless interconnection capability, test and hush buttons and lithium-battery backup, manufactured by HiSPEC.

The HSSA/HE/RF10-PRO is suitable for both domestic and commercial applications where multiple alarms are needed, especially in dusty, humid areas where there is less danger of smouldering fire due to furniture, e.g. kitchens and lofts. Its small size (at only 120mm in diameter) means it will fit unobtrusively into almost any setting but is easily heard, with an 85dB alarm at 3 metres.

These smoke alarms are interconnectable with up to 19 other HiSPEC alarms through the mains, or remotely using integrated RF technology (requires HSSA/CU/RF10-PRO, sold separately). They have distinct buttons for Test and Hush to make testing nuisance alarms easier and is tamper-proofed to prevent vandalism. Furthermore, the HSSA/HE/RF10-PRO features a 10 year sealed lithium battery backup in case of mains failure and come with a fast fix base meaning there's no need to worry about a complicated installation.

Finally, this alarm is insect proof and like all HiSPEC heat detectors, the HSSA/HE/RF10-PRO comes with a 5 year guarantee for peace of mind.