Blauberg Calm Low Noise Hush Quiet Energy Efficient Bathroom Extractor Fan 100mm White - Pull Cord
Model: CALM100S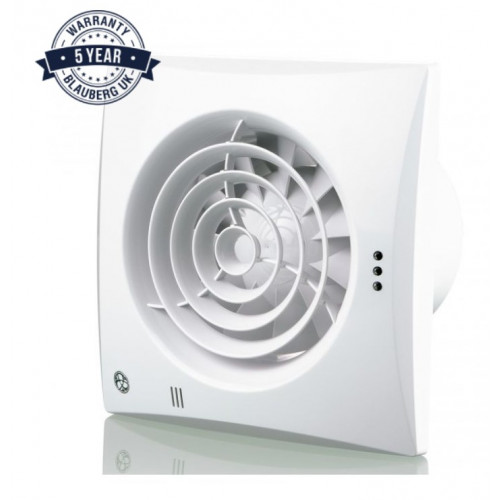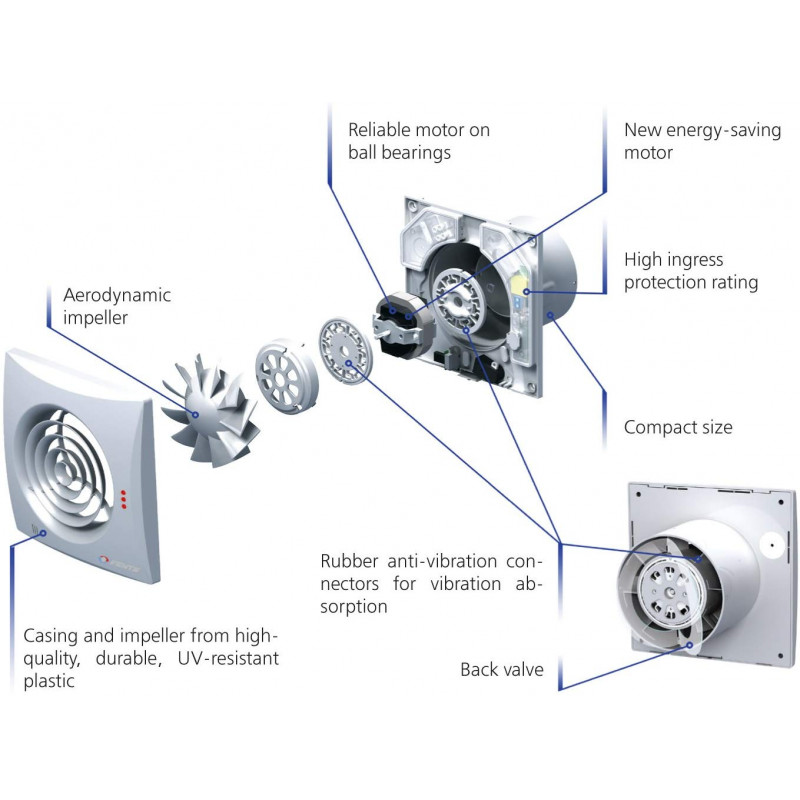 Blauberg Calm Low Noise Hush Quiet Energy Efficient Bathroom Extractor Fan 100mm White - Pull Cord
Model: CALM100S
£36.96

Inc VAT

( FREE UK Delivery On Orders Over £150* )

£30.80

Ex VAT

( FREE UK Delivery On Orders Over £150* )
Blauberg Calm is a unique range of contemporary extractor fans that offer significant advantages over traditional ventilators designed for the home. Our Calm extractor fan range delivers higher airflow rates and less noise because of the way it has been designed. In addition, Calm extractor fans are offered in a range of colours that will fit any modern bathroom, kitchen or wet room. It will also suit a more traditional style.
Blauberg Calm is Building Regulation Part F and L compliant and can be mounted within zone 1 and 2 of a bathroom, shower or sink area. The fitted shutter ensures that back draughts are kept to a minimum when the fan is not in use without the need for an external shutter or draught excluder. There are plenty of control options to choose from depending on your needs from simple 2-wire pull cord operation, humidity and damp control options, to fully automatic PIR movement detection.
Features
Stylish 100mm 4" designer bathroom, kitchen extractor fan finished in brilliant white.
German engineered design with anti-vibration mounts ensures low noise, only 25 dB(A) sound level.
Rated to IP45 and suitable for mounting in bathroom zones 1 & 2.
Mixed flow impeller blade design enables longer duct runs to be used.
100mm, 4" diameter duct connection.
An impressive 97 m3/hour extract airflow rate 27 l/s.
Fitted with an anti-back draft shutter.
Supplied with a built-in run-on timer.
Fitted with a German Blauberg motor and backed with a 5 year warranty.
Can be wall or ceiling mounted.
Energy rating: A+
Controls & Wiring
This CALM100S fan is fitted with a built-in with a pullcord adjustable run-on timer. A small knob is mounted inside the fan can be used to adjust the run on time from 2 to 30 minutes. The electrical supply is normally provided from your household lighting circuit and the fan will require a live, switched live & neutral connections.
If the run on timer is not required, a short link can be made from L to LT terminals.
Please ensure that you are a competent person or consult a qualified electrician for any advise required.
Bathroom Zones 1 & 2 Explained
Normally, extra care is needed when selecting extractor fans for bathroom and shower rooms as the areas around them normally require SELV (safety extra low voltage) fans with 12v transformers. For ventilation purposes, these sensitive areas are called Bathroom Zones 1 & 2.
This is to ensure that the risk of electric shock is kept to a minimum. However, as Blauberg Calm extractor fans have a high IP rating (IP45), SELV 12v extractor fans are not required. All that is needed is to ensure that your Calm extractor fan is connected to an RCD (residual current devise). If in doubt, any qualified electrician can explain what is required to meet current regulations or feel free to contact us for further advice.