Schneider SEE132C03 SquareD Loadcentre iKQ 1 Module Single Pole Type C RCBO 32A 10kA 30mA
Model: SEE132C03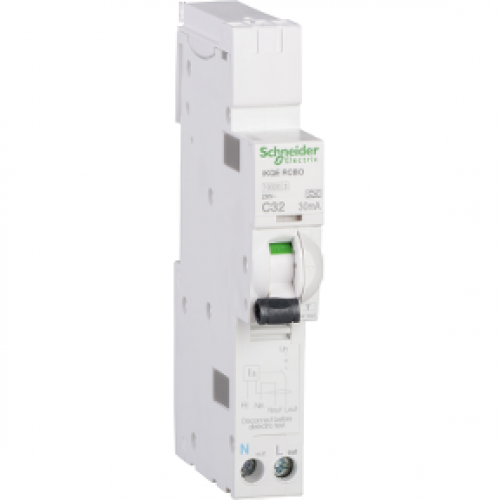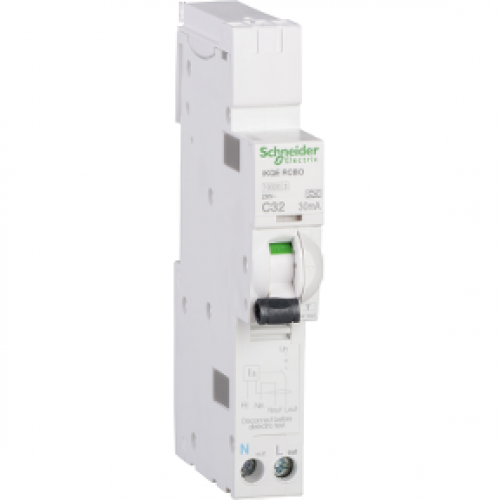 Schneider SEE132C03 SquareD Loadcentre iKQ 1 Module Single Pole Type C RCBO 32A 10kA 30mA
Model: SEE132C03
£29.99

Inc VAT

( FREE UK Delivery On Orders Over £150* )

£24.99

Ex VAT

( FREE UK Delivery On Orders Over £150* )
1 Left In Stock
Schneider SEE132C03 Loadcentre iKQ 1 Module Single Pole Type C RCBO rated at 32A 10kA 30mA.

RCBO is a combined MCB/RCD, combining overload, short circuit and earth leakage protection in one single pole device.

This RCBO is the new style replacement for the Square D KQE range and fit both new and older style distribution boards.
• Manufactured and tested to BS EN 61009
• 10kA breaking capacity
• Let through energy classification of 3 (lowest let through energy giving best cable protection classification)
• Positive contact indication on toggle (guaranteed on/off indication)
• Trip free MCB mechanism
• Lockable in the ON or OFF position
• Automatic trip on loss of neutral
• Automatic protection against reverse polarity
• TypeC characteristics
• Operating voltage 150 - 230Vac
• AC class sensitivity
• For use in iKQ LoadCentre Type A and B boards
• One single pole way occupied in a distribution board ideal for retrofitting earth fault protection
• Cable capacity 16mm
• Speed of connection of Plug-On devices